Global Leadership Report - 2018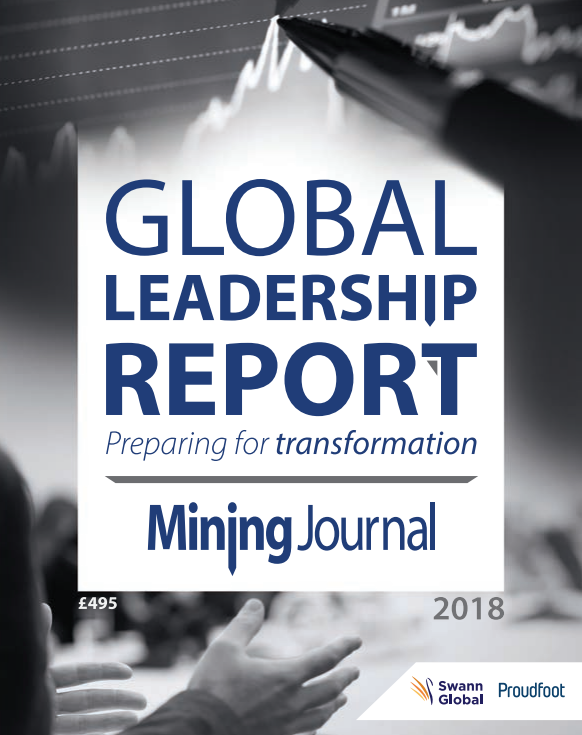 The Mining Journal 2018 Global Leadership Report includes results from more than 500 responses to our industry-wide digital survey, and interviews with 21 leading executives from companies with an aggregated market capitalisation of some $367 billion.
The 132-page document also hosts the full transcripts of all executive interviews across 63 pages, the findings from both the Transformation and Leadership surveys broken down by relevant demographics (market capitalisation, employment level, headquarters location, age, sub-sector and gender), and seven pages of expert discussion of the results. The foreword to the Full Report is written by International Council on Metals and Mining chief executive, Tom Butler.
Following round-table discussions with project partners Proudfoot and Swann Global, the key theme of the report this year - the industry's readiness to change its approach to meet current challenges - was deemed to be a topic of relevance and in need of in-depth investigation. The report also carries a complementary review of desirable leadership traits and industry threats/opportunities, which will be repeated annually.
Purchase and download your copy today!
(Your copy of the printed report will be sent in the mail as soon we receive the order)
Alternatively, subscribe to Mining News Premium (HERE) to receive full access to MiningNews.net, the Mining Journal Leadership Report plus four more quarterly research reports (Risk, METS, Finance and Project Pipeline) each year!!