MNN Premium Website (5 Users)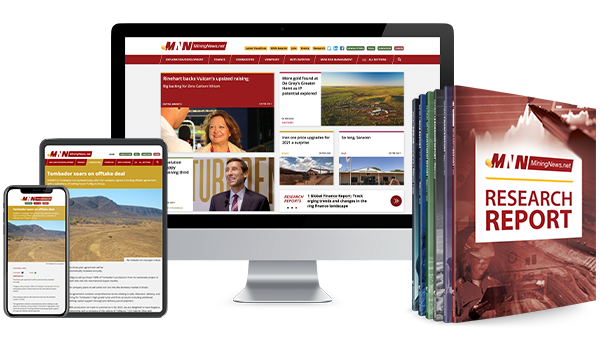 Get all the benefits of Mining News Standard subscription, plus full access to Mining Journal Intelligence Report Series
Full access to MiningNews.net – desktop and mobile display
Full access to MNNi Australia Research Report
Comprehensive independent coverage of new discoveries, projects, and funding activity across Australasia
ASX daily market wraps, analysis and latest commodity news
Indepth coverage and analysis of M&A, company announcements and financial reports
Timely key commodity trend news and analysis
Expert analysis of relevant global deals, capital market developments, and project finance trends
Exclusive METS sector investment news, commentary and analysis
Opinion pieces, and company and market analysis, by Australia's top mining columnists
Full access to archive since 2001, more than 70,000 articles
Three newsletters a day delivered ahead of ASX-opening and close of ASX-trading
5 annual reports and 1 quarterly report (valued at $1185+GST each) produced by Mining Journal's Intelligence division, centred on the most relevant discussion points in the mining sector: Risk, Finance, Leadership, and Projects.
This product can be purchased in AUD, EUR, USD.
Continue below to access content immediately.